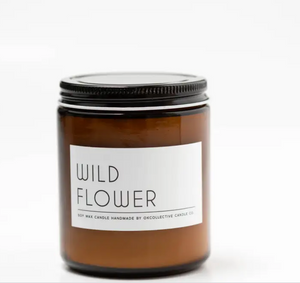 Okcollective Wild Flower Candle
Regular price $20.00 Sale
A strong, vibrant blend of floral with light hints of coconut and citrus. It's like giving someone the lovely scent of flowers without the wilt.
Responsibly sustainable soy. High-grade fragrance oils. Phthalate free. Cotton lead-free wick. Burn time: Estimated at 25-100 hours depending on the size Keep wick to 1/4" and never leave burning candle unattended. Handmade in our Oklahoma City studio.
Our mission is to produce high quality, purposefully made artisan goods that will set the mood in any room, bring back feelings and memories and set the tone for new ones. Our soy candles are always hand poured in small batches in our Oklahoma City flagship studio + storefront and curated to complement any unique style in any humble abode or brick and mortar. We take pride in the sustainability of our brand of all natural soy candles made with cotton wicks and fine fragrance oils in reusable glass jars.